This is the new Toyota Yaris Cross. It's a B-segment crossover that is set to compete with Nissan Juke, Renault Captur, Peugeot 2008 and Skoda Kamiq.
The Toyota Yaris Cross will be available to UK buyers from May this year, with first deliveries expected in September. So far, Toyota has only released the specification of the mid-range Yaris Cross Dynamic, although a flagship Excel variant has been confirmed for production.
Dynamic models are equipped as standard with 18-inch alloy wheels, silver roof rails and a robust body kit with underride protection at the front and rear. Inside it has a dashboard trim in piano black, synthetic leather upholstery, a black headliner as well as a leather steering wheel and a gear selector sleeve.
Toyota will also shortly be launching a limited Premiere Edition version of the Yaris Cross Dynamic, which will only be available for the first 12 months after the car is released. Upgrades over the standard model include leather seats, a head-up display, two-tone paintwork, an electrically operated tailgate and a unique set of 18-inch alloy wheels.
New Toyota Yaris Cross 2021: platform and powertrain
The Yaris Cross is the company's second European model based on the smallest version of Toyota's New Global Architecture (TNGA) platform. It's a scalable set of chassis components that underpin everything from the Yaris and Corolla to the RAV4 and American sedans.
Above all, however, the platform means that Toyota will be able to offer the Yaris Cross with hybrid drive from market launch, as every version of the platform is designed for electrification.
The hybrid powertrain of the crossover has been lifted from the Yaris hatchback. This consists of a 1.5-liter three-cylinder petrol engine with the Atkinson cycle, a compact electric motor and a new lithium-ion battery. The system generates a total of 114 hp and can either drive the wheels directly via a CVT transmission or charge the battery for what Toyota calls "generous" all-electric range.
Toyota claims high fuel consumption and low emissions for the new powertrain, but has only released preliminary CO2 figures so far. According to WLTP, expect the front-wheel drive versions of the Yaris Cross to drop below 120 g / km, while the all-wheel-drive versions equipped with Toyota's AWD-i system are below 135 g / km.
All-wheel drive versions come with no practical drawbacks, and it also gets a more sophisticated double wishbone suspension at the rear compared to the torsion beam setup of the front-wheel drive car.
No other engine details have been confirmed, but the new Yaris will at some point be available with conventional petrol with manual transmission, and we expect the Yaris Cross to follow suit. A 1.5 liter non-hybrid petrol engine will be launched in certain European markets, but we don't yet know if the UK is one of those markets.
New Toyota Yaris Cross 2021: design and interior
While the newcomer's name suggests he's a member of the Yaris family, it sets itself apart from its Ford Fiesta rival sibling with a look of its own. Rather than being in line with the hatchback, the crossover's design is inspired by some of the larger SUVs in Toyota's lineup, notably the RAV4.
"Of course we want the car to be perceived as an SUV immediately, so we have to have higher ground clearance, a strong horizontal axle that gives good balance and equilibrium, emphasizes large angular wheel arches and of course large wheels," explains Lance Scott, Design Manager in Toyota's European design development studio.
"The face was also a very important aspect for us. We wanted to keep the strong DNA of Toyota's SUV range, but at the same time give the Yaris Cross its own identity. "
The grille and headlights differ from those of the Toyota's Supermini, while the side paneling gets a sturdy twist with large, sturdy-looking wheelhouses and a new C-pillar.
There is also a new rear apron around the back, while the hatch cover is electrically operated on some models. Toyota hasn't confirmed a trunk size yet, but it will almost certainly be a more practical car than the Yaris, while features like an adjustable trunk floor, underbody storage, and Toyota's Belt Flex system for securing items are available.
The Yaris Cross is only 6mm shorter than the Ford Puma, but its wheelbase is 28mm shorter. Compared to the Nissan Juke, it is 45 mm longer with a 30 mm longer wheelbase. The Cross shares its wheelbase with the Yaris Supermini, but is a total of 240 mm longer and 90 mm higher. With an additional 30 mm ground clearance, we expect good headroom inside.
While the exterior design is a departure from the Yaris, the Yaris Cross shares most of its interior design with the supermini, right down to the door cards. There is a new steering wheel, new instrumentation and a larger central touchscreen as well as a storage compartment in the center console.
Although the Yaris Cross is 200mm shorter than the C-HR, Toyota also claims that it has more interior space over its bigger, sleeker brother thanks to the packaging gains.
It is built in Toyota's French production facility in Valenciennes, and that too in large numbers: around 150,000 per year according to Toyota's own estimates. That would give the brand a sizeable share of the European B-SUV market if it were to sell them all.
Rivals: What the New Yaris Cross Has to Beat
Renault Captur
Price of: € 17,995
The second generation of Renault's small SUV has borrowed a lot from the latest Clio, and that's a good thing. The Captur's cabin is now right at the top of the best in its class, and the trunk is practical enough to rival many family hatchbacks, let alone smaller SUV rivals.
The star of the Renault could well be the plug-in electrification. The E-Tech version is a proper PHEV with a large enough battery to handle trips of up to 30 miles on electricity alone.
Ford Puma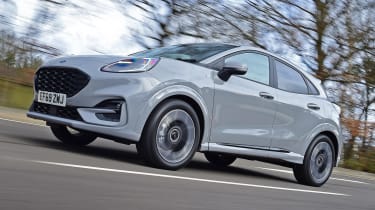 Price of: £ 20,710
The hybrid badging on Ford's excellent little SUV shows how cloudy the water is now in this area. Unlike Yaris and Captur, Ford's offering is a mild hybrid – in effect, with a belt-driven starter-generator that uses braking energy and then uses it to accelerate and save fuel.
Still, the Puma manages some solid economy numbers – at up to 50 mpg doable in the real world – and it's probably the best driving of any small SUV.
Peugeot e-2008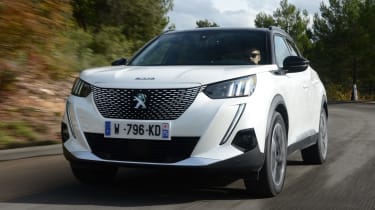 Price of: € 31,665
The latest iteration of Peugeot's small SUV has possibly the widest range of powertrain choices of all – gasoline, diesel
Power and even the option of a fully electric version.
The e-2008 has a 50 kWh battery that offers a range of around 190 miles. A clever platform layout means there's no less space than the e-2008's conventionally powered siblings, but its cost puts it at the top of the small SUV market in terms of price.
Get more from Auto Express …